Your Metal Fabrication Experts
North East Victoria • Southern New South Wales
Family Owned & Operated Since 1978
With a wealth of experience in all aspects of structural steel fabrication, supply, erection & architectural work, we have your next project covered
600T x 6m Hydraulic Press
300T x 5m Mechanical Press
100T x 3m Hydraulic Press
X-Definition Plasma Cutting
20mm x 3m Plate & Section Roller
Overhead Cranes Up To 5T with 8m Under Hook
Mini Crawler Crane 3,000kg Capacity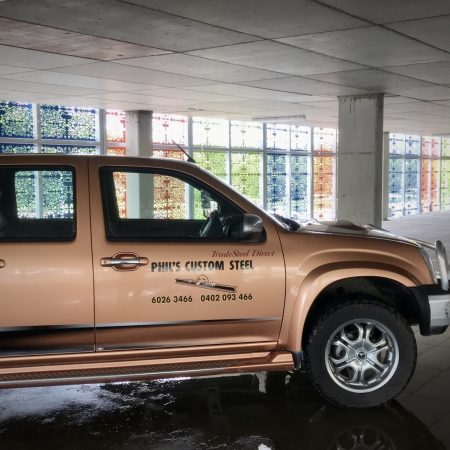 Established in 1978, Phil's Custom Steel is a family owned and operated business located in the Jindera Industrial Estate, just outside Albury NSW.
Our dedicated team of tradesmen, apprentices and trade assistants specialise in processing of all kinds of steel and non ferrous plate, structural steel fabrication, erection and related architectural work.
Our purpose-built premises houses 5 overhead cranes and dedicated areas for pressing, guillotining and rolling.
With some of the largest guillotines, presses, rolling equipment and other fabrication machinery outside of the capital cities, our team of qualified tradesmen and apprentices are able to complete even the most challenging of metal fabrication jobs to the highest quality.
Here at Phil's Custom Steel Pty Ltd, we operate a 10mm x 6m guillotine and a 20mm x 5mt guillotine for the larger plate cutting, along with a range of smaller machines.
Our flagship machine is an impressive 640-tonne x 6m brake press that is the largest of its kind between Melbourne and Sydney and is capable of a diverse range of tasks. Our other presses include a 300-tonne hydraulic press brake and a 100-tonne mechanical press.
The plate rolling machine here at Phil's Custom Steel Pty Ltd is capable of rolling up to 25mm plate to 3m wide, with accuracy down to 0.5%.
X-Definition Plasma Cutting
Our X-Definition Plasma is the highest form of plasma technology, building on high definition plasma and setting new standards for cut quality on mild steel, stainless steel, and aluminium.
With a 1.8m x 6m plasma table, we are able to cut up to 50mm thick plate.
We can carry out precision plate punching right up to 40mm.
The team here at Phil's Custom Steel Pty Ltd take pride in our status as the largest manufacturer and supplier of T-Lintels for domestic and commercial buildings in North East Victoria and Southern New South Wales. We stock a large range of standard lintels and we can supply special orders usually within 48 hours of order placement.
Structural Steel Fabrication
Our in-house design team can provide custom steel for any sized project with drafting and detailing of most jobs. All of this is backed up by 30 years of structural engineering design and build experience.
Thanks to our fleet of specialist equipment that includes mobile slewing cranes, boom lifts and mini crawler cranes, we are able to deal with the erection of a wide range of structural steelwork. Working together with our workshop team, our onsite engineers will ensure that everything fits together perfectly the first time, every time.
You don't have to look any further than Phil's Custom Steel Pty Ltd for all types of steel fabrication work. In our purpose-built workshop, our highly experienced team can deal with all aspects of structural steelwork supply.
With our strong background in many aspects of general engineering including transport, access, and decorative work, we have gained a wealth of experience with a wide range of materials. These include aluminium, stainless steel and copper. Coupled with a design team that has a flair for the unusual, we can cater for all types of general engineering requirements.
Please take some time to look over the selection of projects that we have successfully completed in order to gain an idea of both the scope and outstanding quality of our work. If you don't see what you came here looking for, please do not hesitate to contact our helpful and friendly team to discuss your ideas and arrange for an expert consultation or free quote.
6 Davis Dr, Jindera NSW 2642